Ice Cream Brands » Cadbury
Cadbury London(United Kingdom)
Type

Public

Founded

Birmingham, England (1824)

Headquarters

City of Westminster, London, England,
United Kingdom

Key People

Roger Carr (Chairman)
Todd Stitzer (CEO)

Industry

Confectionery and soft drinks

Products

Chocolates, Sweets, Mint, Ice Creams

Revenue

£5,384 million (2008)

Employees

71,657 (2008)

Websites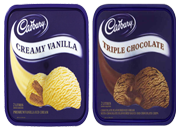 History:

In 1824, John Cadbury began vending tea, coffee, and drinking chocolate at Bull Street in Birmingham, England in the UK which he produced himself. John Cadbury later moved into the production of a variety of Cocoas and Drinking Chocolates being manufactured from a factory in Bridge Street, supplying mainly to the wealthy due to the high cost of manufacture at this time. During this time a partnership was struck between John Cadbury and his brother Benjamin. At this time the company was known as 'Cadbury Brothers of Birmingham'.
Due to the popularity of a new expanded product line, including the very popular Cadbury's Cocoa Essence, the company's success led to the decision in 1873 to cease the trading of tea. Around this time, master confectioner Frederic Kinchelman was appointed to share his recipe and production secrets with Cadbury's, which led to an assortment of various chocolate covered items.
The Nation's Favourite

The Cadbury ice cream brand at the present enjoys retail sales of over £40 million supported by devoted ice cream advertising and PR support next to £30 million of master brand advertising.