Ice Cream Brands » Cold-Stone-Creamery
Cold-Stone-Creamery
| | |
| --- | --- |
| Type | Wholly owned subsidiary |
| Founded | Tempe, Arizona, 1988 |
| Headquarters | Scottsdale, Arizona |
| Founders | Susan and Donald Sutherland |
| Industry | Ice cream parlor |
| No of locations | 1400 |
| Parent | Kahala Corporation |
| Websites | |
History: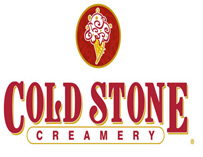 The company was co-founded in 1988 by Susan and Donald Sutherland (unrelated to actor Donald Sutherland), who sought ice cream that was neither hard-packed nor soft-serve. Publicity materials describe it as "smooth and creamy super-premium ice cream." Cold Stone Creamery opened its first store that year in Tempe, Arizona. While the company was originally headquartered in Tempe, in 1997 the company moved its headquarters to Scottsdale, Arizona. The company moved to its current headquarters in Scottsdale in 2005. The original Cold Stone Creamery, store #0001, is still in operation today at the original location in Tempe.
The company's business model is the same as the created by Steve's Ice Creams founder Steve Harrell. The company uses in-store made ice cream that is combined with mix-ins, candy or other items that is folded into the ice cream to make a new flavor. Cold Stone's name comes from the frozen granite stone, used to mix "mix-ins": candy, nuts, or other edibles into various flavors of ice creams. However, the granite stone technique used to mix "mix-ins" was created by Marble Slab.
Products:
All ice cream creations are offered in three sizes: "Like It" (5 oz (140 g)), "Love It" (8 oz (230 g)), and "Gotta Have It" (12 oz (340 g)). There is also a kids' size (3 oz (85 g)). Also offered are shakes, malts, smoothies, and iced coffee drinks. All ice cream is made in house using natural ingredients and waffle cones and bowls are baked daily. The company also has a line of ice cream cakes, pies, and most recently, ice cream cupcakes, most of which are made on-site. Stores also offer the option of customizing these frozen desserts much like their ice cream creations.