Fruit Ice Creams » Gooseberry Ice Cream Varieties » Gooseberry Ice Cream Recipe

Gooseberry Ice Cream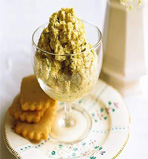 Ingredients
1 lb gooseberry
1/2 cup water
1 1/2 cups sugar
1 1/2 cups milk
3 egg yolks
1 cup cream
1/4 cup glucose powder
Preparation Method
Place 1lb of gooseberries, ½ cup of water and 1 cup of sugar (or to taste) in a saucepan and simmer for approximately ten minutes.


In a separate saucepan, make the custard by heating 1 ½ cups of milk and ¼ cup of sugar.


Bring to boiling point and remove from the heat.


In a heatproof bowl, whip up 3 egg yolks with a further ¼ cup of sugar.


Pour the hot milk into the egg mixture and then put back into the saucepan on the stove and stir over a gentle heat until the custard coats the back of a spoon. Do not allow to boil.



Cool both the fruit and custard down and liquidize and/or sieve the fruit mixture to make a puree.



Set aside 1/3 of the fruit puree for use later.


Mix the remaining 2/3 of the fruit puree with the ¼ cup of glucose powder.


Mix this with 1 cup of whipping or double cream and add in the custard mixture.


Pour into the ice cream maker and follow the manufacturers instructions to freeze the ice cream.


When ready, mix in the remaining 1/3 of the fruit puree very roughly, leaving a marbled effect.


Place directly into the freezer and freeze for at least one hour before serving.
Related Fruit Ice Creams