Fruit Ice Creams » Papaya Ice Creams Varieties »Papaya Ice Cream Recipe
Papaya Ice Cream Recipe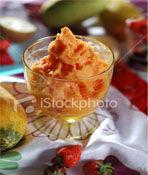 Ingredients
3/4 cup granulated white sugarp
2 eggs, beatenp
1-3/4 cups heavy whipping cream
1 ripe papaya, peeled, seeded, and sliced
1 fresh lime (see instructions)
Preparation Method
Whisk together sugar, eggs, and cream in a heavy saucepan.


 Cook over low heat, while stirring, until thickened enough to coat the spoon.


 Do not boil. Remove from heat and let cool to lukewarm, stirring occasionally to prevent a skin.


 Place the papaya into the bowl of a food processor fitted with the metal blade or a heavy-duty blender.


Remove the zest from the lime using a micro plane or grater, and then juice the lime.


Add the lime zest and lime juice to the papaya and process into a puree.


Add papaya puree to the thickened cream, stirring to thoroughly combine.


Pour into ice cream machine and freeze.
Related Fruit Ice Creams