Ice Cream Brands » Albertson
Albertson
| | |
| --- | --- |
| Type | Private |
| Founded | 2006 |
| Headquarters | Boise, Idaho |
| Key People | Robert Miller, CEO |
| Industry | Retail |
| Products | Bakery, dairy, deli, frozen foods, general grocery, meat, pharmacy, produce, seafood, snacks, liquor |
| Revenue | US$6.0 billion (2007) |
| Employees | 234,000 (2006) |
| Websites | |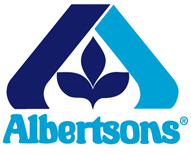 Albertsons a completely owned subsidiary of Eden Prairie, Minnesota-based Supervalu, is a superstore retailer that operates 529 grocery stores in Washington state, Arizona, Oregon, Idaho, Montana, Wyoming, Nevada, California, and certain parts of Utah. Supermarket News ranked parent companionship Supervalu number five in the 2007 "Top 75 North American Food Retailers".
History:

Albertsons was founded by Joe Albertson in 1939 in Boise, Idaho. An advertisement in the Idaho Statesman newspaper touted Joe Albertson's first store as "Idaho's largest and finest food store". The store was packed with perquisites that, at the time, were brand new: free parking, a money-back guarantee, even an ice cream shop. The store was located at 17th and State Streets, a few blocks north of downtown Boise.

Joe Albertson's grocery store was a massive success, and he plowed his income back into the business. New stores were opened in bordering towns to the west, Nampa, Caldwell, and Emmett, before Pearl Harbor in late 1941. The companionship grew gradually in the years subsequent World War II. When Joe Albertson was in view of putting a new store in a town, he would drive around the town and look for neighborhoods with lots of children's clothing hanging on clotheslines; he knew that those kinds of neighborhoods were where he required building his stores.

Albertsons, Inc. became a public company in 1959, and its growth continued; in 1964, Joe opened his 100th store, in Seattle. In 1966, Albertsons expanded to southern California by acquiring All American Stores, a small chain in Orange County.