Category » Vegetable-Ice-Cream » Carrot Ice Cream

Carrot Ice Cream
Ingredients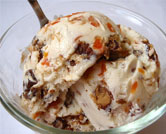 300 mls carrot juice - ideally freshly squeezed from young, sweet carrots
5 egg yolks
100 grams caster sugar
300 mls double cream or mascarpone

Preparation Method
Place the eggs and sugar in a large mixing bowl, if possible one with a pouring spout.


Beat the eggs and sugar together with a hand whisk until pale and well combined.


Pour the carrot juice over the egg and sugar mixture and whisk both together until the mixture is well combined.


Pour the mixture into a heavy-based pot and place it over low-medium heat.


Cook the mixture, whisking it constantly for approximately 5-8 minutes until it has thickened to a light custard consistency.


Take out the carrot custard from the heat and pour it back into the mixing bowl, scraping the sides with a spatula.


Fluff up in the cream and set aside to cool to room temperature.


Pour into the container of your ice-cream machine and mix according to your manufacturer's instructions.