Ice Cream Brands » Dreyer's
Dreyer's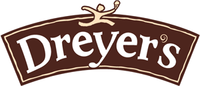 Dreyer's Grand Ice Cream Holdings, Inc., a division of Nestlé, is a United States-based producer of ice cream and frozen yogurt. Its products are marketed under the Dreyer's name in the Western United States and West Coast, and under the Edy's name in the Eastern United States and East Coast. This is to honor the company's two founders: William Dreyer, an ice cream maker, and Joseph Edy, a confectioner. Aside from the name, both brands are identical. The Edy's name was added when Dreyer's expanded towards the East Coast in the 1980s to avoid confusion with the Breyers brand which had already established itself on the Eastern Seaboard.
Dreyer and Edy founded the company in 1928 in Oakland, California. Their original shop was on Grand Avenue in Oakland and the label "Grand" on the Dreyer's brand is derived from the location of the original shop. In 1929 William Dreyer invented Rocky road ice cream.
Dreyer's went public in 1981 and its shares were traded on NASDAQ under the ticker symbol DRYR.
In June 2002 Nestlé acquired 67% of Dreyer's. In January 2006 it took full ownership of the company, thus becoming the world's biggest ice cream maker, with a 17.5% market share. Dreyer's has also acquired its own ice cream brands, including the Snelgrove's Ice Cream brand in Utah.
In 2002, Nestle insisted on a smaller container to increase profits and so the standard US Half Gallon (2 Quarts) container was down sized to 1.75 Quarts (1.65 L) container. In May 2008, the 1.75 quart container was further down sized to 1.5 quarts (1.42 L). Other ice cream manufacturers followed the down sizing move.
In 2004, Dreyer's began using a new churning processes called low-temperature extrusion. Unlike traditional churning methods, the ice cream does not need to be frozen once it is done churning. Since this freezing stage produces large ice crystals, which gives the ice cream a grainy texture, manufacturers would add milk fat to counterbalance the grainy texture. As this extra freezing process isn't necessary with w-temperature extrusion, the "slow churned" line of ice cream is labeled as containing two-thirds the calories and half the fat of "regular" ice cream.
Dreyer's has also extended this process to other brands besides its two flagship brands, such as Häagen-Dazs, which it produces under a license from General Mills.