Category » Vegetable-Ice-Cream » Green Pea Ice Cream

Green Pea Ice Cream
Ingredients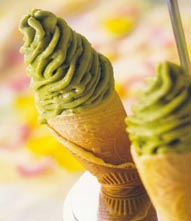 3 eggs
100 g (1/2 cup) sugar
200 ml (3/4 cup) whole milk
300 ml (1 1/4 cups) liquid cream
700 g (1 1/2 lb.) shelled Peas
1/2 bunch mint

Preparation Method
Bring a saucepan of salted water to the boil; add the peas and cook for 8 minutes.


Drain, and then plunge them immediately into ice water to stop the cooking and set their bright green colour.


Drain again; smash the peas in a blender, then put through a strainer to obtain a fine puree.


Place in the refrigerator.


Bring the milk and cream to the boil. Beat the eggs and sugar in a bowl until the mixture is foamy.


Gradually add in the milk and cream, whisking constantly.


Pour the mixture into a saucepan and cook over low heat for 10 minutes, stirring with a spatula in a figure-8 pattern.


The mixture must not boil. Cool and refrigerate.


When the cream is cold, add the pea puree and combine well.


Put the mixture into an ice cream maker to freeze until it attains the consistency of ice cream.