Ice Cream » Ice Cream Flavors » Butter Pecan Icecream
Butter Pecan Icecream
Fudge ripple icecream consists of velvety swirls of vanilla syrup. It is one of the famous icecream in United States. It is very easy to prepare.
Making of Butter Pecan Icecream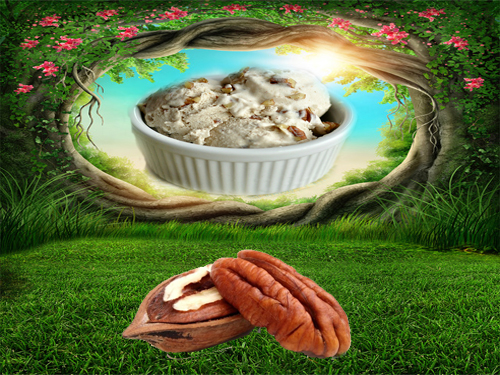 Ingredients

• 2 cup of pecans
• Unsalted butter(3 tablespoon)
• Brown sugar(1 ½ cup)
• Cornstarch(2 teaspoons)
• Eggs(4-5)
• Milk(2 cups)
• Cream(2 cups)
• Vanilla(3/4 vanilla)
• Icecream maker

Steps
• Heat the oven for about 350 degree Fahrenheit.
• Toast the pecans for 7 minutes and add butter and salt to it and immediately cool the pecans immediately.
• Mix brown sugar, cornstarch and eggs and boil milk and cream and add the egg mixture onto it.
• Cook the custard and immediately pour into bowl and mix with vanilla.
• Chill the custard for 3 hours.
• Stir the icecream and pecans in the bowl and freeze it.
• And finally butter pecan icecream gets ready you can eat and have fun.