Friday, March 26, 2010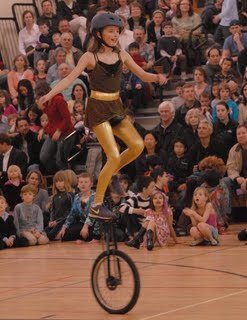 Frenzied Schmitz Park Elementary School students juggled, skipped rope walked on their hands and rode unicycles around the Madison Park Middle School's gymnasium in front of a bleacher-packed crowd Thursday, March 25. They performed at "Disco Night" theme for the annual event, the popular Ice Cream Social.
Over the years it has developed such big that it was held at Madison Middle School's Gym. The students trained their routines over the course of the school year, set to music.
Ice cream
was then served in the cafeteria. Some families opted out of the long dessert line and headed over to Husky Deli for ice cream there instead.
Labels: Icecream, Schmitz, School, Slide Show