Ice Cream Brands » Falooda Ice Cream
Falooda Ice Cream
Our award-winning Indian ice cream is just a part of all of the scrumptious and amazing things on our menu. We also serve many different dishes of Chat (Indian fast food) like pan-i-puri, bhel and samosa cholle. To go along with that, we also have different types of curry, like vegetable curry (spinach, eggplant, etc.) and chicken curry, each served with delicious vegetarian samosa, rice, and tasty Indian yogurt salad (raita). In addition to Chat and ice cream, we have delicious deserts called "Bombay Specials". Two of our best specials include ice cream recipes Falooda and Kulfi. Falooda is basically and Indian ice cream float, made with ice cream (any flavor you choose), milk, rose syrup, vermicelli, and tukhmalanga (flavored seeds). Kulfi is an Indian sundae, made with more richer, creamier ice cream, rose syrup, vermicelli, and rabri (Indian pudding). These two items have gotten so popular that they were just recently on the Food Network, where we explained and showed how to make these incredible deserts (The clip is currently still airing on the Food Network, so stay tuned in to catch a glimpse of it).
Falooda ice cream is an Indian refreshment drink made by using milk, vermicelli, sabja, tutti fruity and sugar along with huge amounts of ice cream. The popular flavors' in which Falooda is available include rose, mango, chocolate, fig, and many others. Falooda is very popular throughout India and is easily available in hotels and on beach stalls. A variant is the Falooda Kulfi where Falooda and Kulfi are served together with syrup.
Ingredients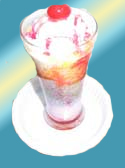 200 ml vanilla ice cream
1 cup vermicelli
1 lit milk
1/2 cup cream
2 tsps rose essence
1/2 cup almonds & pistachios
2 Table Spoon Falooda seeds
1 packet Rasna or Rose Syrup
Steps
Boil Milk till its Turns little thick.

Add rose essence & chill.

Boil Vermicelli & keep aside.

Soak Falooda seeds for 2 to 3 hours.

Make Rasna as per directions given on the pack.

Add a spoon of Rasna few strands of vermicelli and a spoon of Falooda seeds.