Ice Cream » Ice Cream Flavors »Hockey Pokey Icecream
Hockey Pokey Icecream
The first recipe was found in New Zealand around 1980 which consists of only solid toffee but to make it much tastier they included honeycomb toffee. It is also famous in japan and pacific.
Making of Hockey Pokey Icecream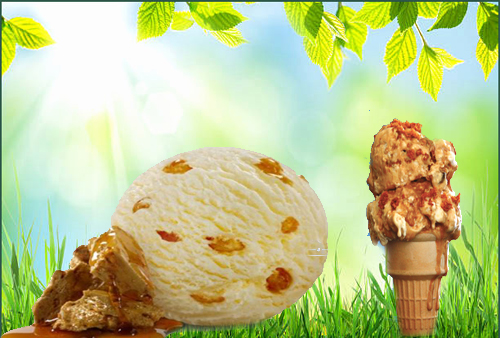 Ingredients

• Sugar(4 teaspoon)
• Golden syrup(2 teaspoon)
• Baking soda(1 teaspoon)
• Eggs(4-5)
• Caster sugar(1 cup)
• Cream(500 ml)

Steps
• Heat sugar and golden syrup in a pot and stir it well until it forms a mixture.
• Take the pot and add baking soda
• Pour the mixture onto the tray and cool it.
• Beat the sugar and the egg in the bowl until becomes creamy.
• Whip the cream in another bowl and coat with sugar, egg yolk then stir it with the cooled mixture and freeze it.
• And finally hokey pokey is ready you can eat and enjoy.