Ice Cream Sandwiches
During 19th century ice creams were firmly entrenched in the American society and with its popularity many came up with new inventions. One of the first inventions to come along with the ice cream cone which made its debut during 1904 at St. Louis World's fair. By the 1920s we got the first chocolate-covered ice cream bar (Eskimo Pie), the banana split, ice cream cakes, and the first chocolate covered ice cream bar on the stick (the Good Humor Ice Cream Sucker), and then ice cream sandwich. John Mariani in his 'The Dictionary of American Food and Drink' says that the first ice cream sandwiches were made with cake like the chocolate cookies followed in the San Francisco by sandwiches made with the oatmeal cookies. In the year 1980s the 'Chadwick' became very popular this was made up of chocolate chip cookie.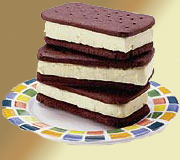 This recipe is used chocolate cookie but you might use any type of cookie that you enjoy (chocolate chip, oatmeal, digestive, etc.). You need to concentrate on that a soft textured cookie will makes it easier and less messy to eat. No doubt, homemade ice cream is the best in all sandwiches (I used Maple Pecan Ice Cream in the picture) but a good quality store that bought ice cream is fine. You can make the sandwiches ahead of time and also place them in the freezer or, for a more casual gathering, allow your guests to make their own. A nice idea is to have a few different types of cookies (homemade or store bought) and also ice creams (homemade ice cream or store bought) make available to suit everyone's tastes.
Steps

Ask your child to help you measure out the ingredients. Follow the package directions, except for one thing: Substitute milk when water is called for. Add the ingredients to the bowl, and then stir until combined.
Grease and flour the baking pan, or use cooking spray. (Your child can help with this, too.)
Pour half the brownie mix into the pan; spread batter over bottom until completely it is covered. (Save the other half to make another batch of ice cream sandwiches, or pour into another small greased baking pan to make a small batch of brownies.)
Bake at 300° F for 15 minutes, or until batter is firm.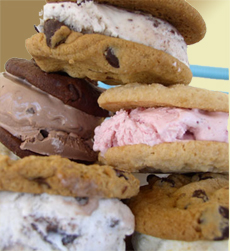 Remove pan to wire rack to cool.
When brownies are warm but not hot, run a knife around the outer edges of the pan to loosen. Then cut into 12 rectangles.
Remove a rectangle to a plate, platter, or other flat surface.
It's time for your child to help again! They would love this part. Place two scoops of vanilla ice cream on top of the rectangle, then flatten them out with the back of the scoop or a spoon.
Place another brownie rectangle on top and press down gently.
Wrap in plastic wrap and place in the freezer while you prepare the other sandwiches.
Repeat until all six sandwiches are finished.