Category » Lemon Custard Ice Cream
Lemon Custard Ice Cream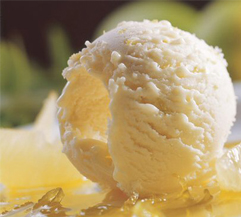 Grandmother's Lemon Custard Ice Cream
Ingredients

Finely grated zest of 3 lemons
½ cup Fresh lemon juice
¾ cup Sugar
2 cups Half-and-half, or substitute 3 parts milk to 1 part cream
4 large Egg yolks
Pinch of salt
2 cups Heavy cream
Steps
In a heavy bowl, combine the lemon zest and lemon juice, and stir in the sugar with a fork. Let it stand for 30 minutes. The sugar helps release the flavor of the zest. Scald the half-and-half over medium heat and set aside. In a bowl, whisk the egg yolks and salt with a mixer until well blended. Slowly add about half of the scalded half-and-half and stir gently. Return the mixture to the saucepan. Cook the custard over medium to low heat stirring constantly until it is thick enough to cover the back of a spoon. Do not let it boil or it will curdle. Immediately remove it from the heat and strain the custard into a large bowl. Stir in the lemon mixture and the heavy cream.

Lay a sheet of wax paper or plastic wrap directly on the surface to prevent a skin from forming and refrigerate until thoroughly chilled. Pour the mixture into the ice cream maker and freeze according to manufacturer's directions. Or you can "still-freeze" this Lemon-custard-ice cream, as well; it just will not be as smooth.
When the ice cream is thickened and frozen, cover it and place it in the freezer until firm. Let it soften slightly in the refrigerator before serving.