Ice Cream Park » Ice Cream Flavors » Mango Ice Cream
Mango Ice Cream
Mango ice cream was quite a find. Apparently Clancy's has been around for about some time, but who were outside of the neighborhood knew. They make their own ice cream and actually it makes a difference. The mango ice cream is an amazing brimming with nice big pieces of fresh mango and the peppermint fudge was quite mint and fudge. Braved the rain to get there, but was delighted.
This is a small ice cream place tucked away in a tiny mall next to 8-11 stores. Their ice cream is home-made ice cream and very delicious and addictive. Many people like Mango Ice cream (fresh and real mango chunks) and Banana Nut flavor that smells and taste really good. The service is friendly and quick.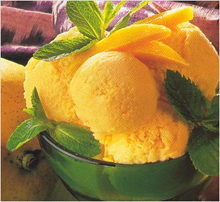 Ingredients
3 cups ripe mango, diced, peeled
1 1/2 cups sugar
2 tablespoons fresh lime juice
2 cups milk
5 egg yolks
1/25 cup whipping cream

Steps
Combine mango, 1/2 cup of sugar and lime juice in a non-metallic bowl. Cover and refrigerate for 1 hour.

Make custard by scalding the milk in a 2-quart saucepan. Whisk the egg yolks and 3/4 cup sugar in a mixing bowl.

Add the hot milk in a thin stream while whisking. Return the mixture to the pan and cook over medium heat, uncovered, until thick enough to coat the back of a wooden spoon, about 3 minutes. Do not let it boil. Strain into a bowl, and let cool to room temperature.

Stir the mango mixture into the custard mixture. Stir in the cream. Taste for sweetness and add more sugar if desired.

Freeze in an electric or crank ice cream maker, following the manufacturer's instructions.

It makes about 1 1/2 quarts.