Ice Cream » Ice Cream Flavors »Mint Chocolate Chip Icecream
Mint Chocolate Chip Icecream
This icecream consists of mint cream and chocolate chips. Mint chocolate chip icecream is the fourth ranked icecream in America. It is also called as peppermint bon bon.
Making of Mint Chocolate Chip Icecream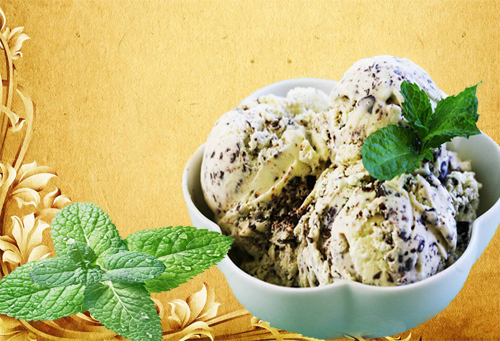 Ingredients

• Milk(2 cups)
• Sugar(1 cup)
• Salt(1/2 spoon)
• Vanilla extract(1 spoon)
• Peppermint extract(1 spoon)
• Green food colouring(optional)
• Chocolate chips(1 cup)

Steps
• Mix milk, cream, sugar and the extract of peppermint and vanilla extract.
• Wait till the sugar gets dissolved.
• If you want you can add green food colouring else leave it. • Pour the mix into icecream maker and make it to freeze. • Add chocolate chips onto it.
• After the icecream gets thickened transfer it to the container and make it freeze for about 2-3 hours.
• And finally your mint chocolate chip icecream gets ready and you can eat and enjoy.