Regional Ice Creams » Mississippi Mud Pie
Mississippi Mud Pie
This sinfully rich pie was shared on a forum. Mississippi mud pie with ice cream and also fudges sauce. Mississippi Mud Pie is very famous among Americans and Austrialans.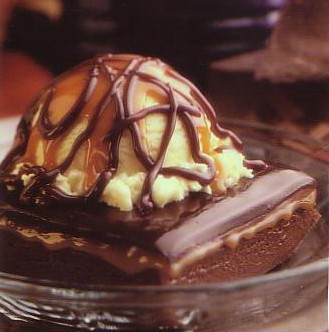 Ingredients
3 pints vanilla ice cream
2 tablespoons bourbon or a flavored syrup (DaVinci type), such as vanilla or Kailua flavor
2 chocolate-cookie crumb crust or graham cracker crust
Fudge sauce (recipe follows)
1/2 cup chopped pecans
3 pints coffee ice cream
Sweetened whipped cream or purchased whipped topping
Steps
Soften the vanilla ice cream in the refrigerator for about 20 minutes, and then spread it evenly in the prepared crust. Top with half the bourbon fudge and half the pecans and freeze for about an hour. Soften the coffee ice cream, and spread over the now firm first layer. Mound the coffee ice cream in the center as necessary. Top with the rest of the fudge and pecans. Decorate with whipped cream and cover loosely. Freeze overnight or at least four hours and serve with warm fudge sauce.
Fudge Sauce
5 oz. unsweetened chocolate, coarsely chopped
1/2 cup brown sugar
1/3 cup granulated sugar
3/4 cup heavy cream
1/4 cup light corn syrup
3 Tablespoons butter
1/2 teaspoon vanilla extract
Steps
4 tablespoons bourbon, or use 1 teaspoon vanilla and an extra tablespoon of cream
Combine chocolate, brown sugar, granulated sugar, heavy cream, and then corn syrup in a microwaveable bowl and microwave about 4 minutes, whisking every 30 to 60 seconds. When the mixture has thickened somewhat, whisk in last three ingredients.