Ice Cream » Ice Cream Flavors »Prickly Pear Sorbet Icecream
Prickly Pear Sorbet Icecream
Prickly pear refers to opuntia which commonly refers to a cactus group. It is the source of prickly pear fruits. And thus with those fruits prickly pear sorbet icecream is made.
Making of Prickly Pear Sorbet Icecream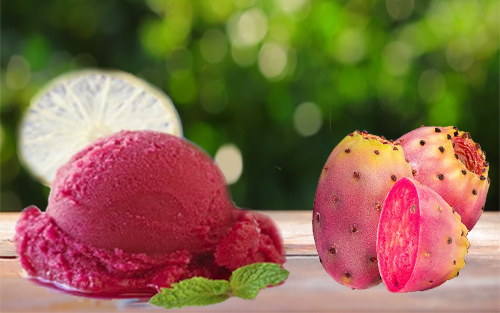 Ingredients

• Cactus pears(8)
• Simple syrup(1 cup)
• Fresh limejuice(2 spoons)

Steps
• Wash the cactus and rub off the wet using the towel.
• Cut the cactus pear in a length and scoop the flesh using the knife by leaving the thick shells.
• Add syrup and the lime juice and the puree until it gets smooth.
• Pour the puree in a bowl and remove the seeds from it.
• Keep the cactus shells on the baking sheet and freeze it.
• Freeze the puree using the icecream maker.
• Scoop the sorbet into the shells that are frozen in a level.
• Freeze the cactus shells that are filled for atleast 6 hours.
• Sorbets that are frozen can be kept individually in a wrap and frozen for about 1 week.
• And finally your prickly pear sorbet icecream gets ready and now you can eat and enjoy.