Ice Cream » Ice Cream Flavors »Rocky Road Icecream
Rocky Road Icecream
Rocky road icecream is a chocolate flavored icecream and it also has many variations. This flavor was found in the year 1929 by William dreyer in Oakland, California. Rocky road icecream used chocolate icecream with no choco chips in it.
Making of Rocky Road Icecream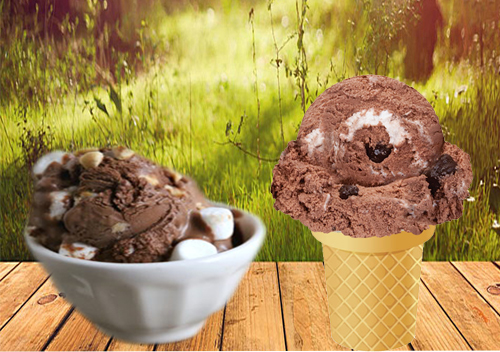 Ingredients

• Milk (1 14 ounce can)
• Cocoa powder (1/2 cup)
• Heavy cream (2 cups)
• Light cream (1 cup)
• Vanilla extract (1 cup)
• Pecans (1 cup)
• Marshmallows (1 cup)

Steps
• In a pan mix milk and cocoa together and heat it for five minutes until it gets thicker.
• Remove from heat and allow it to cool.
• Stir heavy cream, light cream and vanilla and refrigerate it.
• Pour the mixture into the icecream maker.
• Mix it with nuts and marshmallows through the freezing process.
• And finally your rocky road icecream gets ready and now you can eat and enjoy.