Ice Cream » Ice Cream Flavors »Superman Icecream
Superman Icecream
Superman ice cream is famous in Michigan which was found by the shop Stroh. It consists of three colours blue, red, yellow which resembles the colour of superman's costume.
Making of Superman Icecream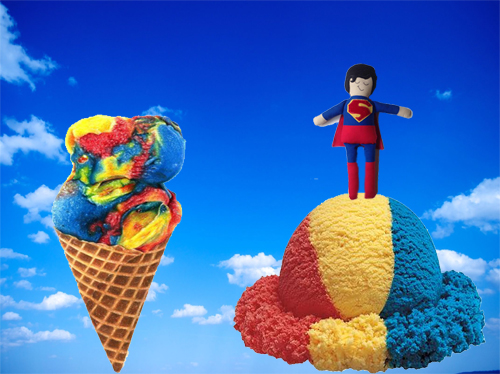 Ingredients

• Heavy cream(2 cups)
• Milk(1-8)
• Strawberry jello(1/2 packet)
• Lemon jello(1/2 packet)
• Berry blue hello(1/2 cup)

Steps
• Mix the heavy cream in a bowl until it becomes soft.
• Add it to the milk until it mixes well.
• Separate the ice cream batter into bowls of 3 and add half a packet of the jellos in each bowl.
• Mix it well and drop full spoons of each colour into a dish and mix the colours together.
• Make it freeze for about 4-6 hours.
• And finally superman ice cream gets ready and you can enjoy eating.