Ice Cream Brands » Willie's Ice Cream
Willie's Ice Cream
One of the sweetest things about life in the Caribbean today, is how easy it is to treat you, to the wonderful taste of Willie's ice cream. No matter where you go or you're almost sure to be near one of Willie's 40 ice cream stores. Willie's also has a wide distribution of its pre-packaged containers into all supermarkets, gas stations, restaurants and also at hotels.
The speed with which Willie's has grown in its homeland demonstrates how popular this special ice cream has become.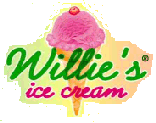 Willie's Ice Cream began in the year 1986 when Wilbur "Willie" Balloting started producing his now famous ice cream at his home with two employees, an ice cream cart and a freezer, Willie began to produce and sell his unique home made ice cream, using pure fruit flavors derived from fresh sun ripened fruit. No artificial colors and flavorings are used. People just loved it! Willie's success was not due to major advertising campaigns, and cute packaging, but simply by the quality and taste of their super premium, all natural ice cream. In only five years after starting, Willie's became a household name and now are at the forefront of the ice cream business in the Caribbean.
Willie's Ice Cream is now producing its super premium ice cream in the United States distribution to Willie's Ice Cream Stores.In October 1996, Willie Balloting was Trinidad's first winner of the Ernst & Young "Entrepreneur of the Year Award".
Today the company is seeking to expand and serve the wider regional markets of North America and Europe.