Ice Cream Brands » Amul
Amul
| | |
| --- | --- |
| Type | Cooperative |
| Founded | 1946 |
| Headquarters | Anand, India |
| Key People | Chairman, Kaira District Cooperative Milk Producers' Union Limited. (KDCMPUL) |
| Industry | Dairy |
| Products | See complete products listing. |
| Revenue | INR (Indian Rupee) 67.11 billion, $1.33 billion USD (in 2008-09) |
| Employees | 735 employees of Marketing Arm. However, real pool consist of 2.8 million milk producers |
| Websites | |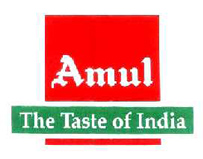 The Amul Pattern has established itself as a uniquely appropriate model for rural development. Amul has spurred the White Revolution of India, which has made India the largest producer of milk and milk products in the world. It is also the world's biggest vegetarian cheese brand.
Amul is the largest food brand in India and world's Largest Pouched Milk Brand with an annual turnover of US $1050 million. Currently Amul has 2.6 million producer members with milk collection average of 10.16 million litres per day. Besides India, Amul has entered overseas markets such as Mauritius, UAE, USA, Bangladesh, Australia, China, Singapore, Hong Kong and a few South African countries. Its bid to enter Japanese market in 1994 had not succeeded, but now it has fresh plans of flooding the Japanese markets. Other potential markets being considered include Sri Lanka.
Dr Verghese Kurien, former chairman of the GCMMF, is recognised as the man behind the success of Amul. On 10 Aug 2006 Parthi Bhatol, chairman of the Banaskantha Union, was elected chairman of GCMMF.
History
Amul was formally registered on December 14, 1946. The brand name Amul, sourced from the Sanskrit word Amoolya, means priceless. It was suggested by a quality control expert in Anand and it was chosen because it was a perfect acronym for Anand Milk Union Limited.
The Amul revolution was started as awareness among the farmers. It grew and matured into a protest movement that was channeled towards economic prosperity.
GCMMF Today
GCMMF is India's largest food products marketing organisation. It is a state level apex body of milk cooperatives in Gujarat, which aims to provide remunerative returns to the farmers and also serve the interest of consumers by providing quality products, which are good value for money. GCMMF markets and manages the Amul brand. From mid-1990's Amul has entered areas not related directly to its core business. Its entry into ice cream was regarded as successful due to the large market share it was able to capture within a short period of time - primarily due to the price differential and the brand name. It also entered the Pizza business, where the base and the recipes were made available to restaurant owners who could price it as low as 30 rupees per pizza when the other players were charging upwards of 100 rupees.
In September 2007, Amul emerged as the leading Indian brand according to a survey by Synovate to find out Asia's top 1000 Brands.
Products
Amul's product range includes milk powders, milk, butter, ghee, cheese, curd, chocolate, ice cream, cream, shrikhand, paneer, gulab jamuns, basundi, Nutramul brand and others. In January 2006, Amul plans to launch India's first sports drink Stamina, which will be competing with Coca Cola's Powerade and PepsiCo's Gatorade.
In August 2007, Amul introduced Kool Koko, a chocolate milk brand extending its product offering in the milk products segment. Other Amul brands are Amul Kool, a low calorie thirst quenching drink; Masti Butter Milk; Kool Cafe, ready to drink coffee and India's first sports drink Stamina.
Amul's sugar-free Pro-Biotic Ice-cream won The International Dairy Federation Marketing Award for 2007.