Ice Cream ->Ice Cream Varieties-> Ice Cream Cakes -> Cranberry Pistachio Ice Cream Cake
Cranberry Pistachio Ice Cream Cake
Ingredients requires: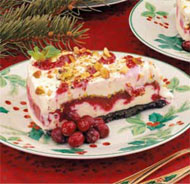 1 ½ Chocolate cream filled cookies
¼ butter or margarine, melted
1 ½ cups Fresh or frozen cranberries, thawed
½ cup light corn syrup
1/3 cup sugar
1/3 sup water
6 cups vanilla ice cream
½ cup pistachios, divided
Preparation Method
Firmly pack the ice cream into a foil lined 9 inch round cake pan.


Cover and freeze it for 2 hours. Preheat oven. Grease flour two cake pans.


Combine sugar, cocoa, baking soda baking powder in a large mixture bowl.


Add eggs, buttermilk, coffee, oil and vanilla extract.


Beat on medium speed of 2 minutes.


Pour batter into prepared cake pans.


Bake until cake tester comes out clean.


Cool for 10 minutes; remove from pan and cool it completely.


Place one cake layer upside down on the serving plate.


Top with ice cream removed from cake pan.


Place second cake layer topside up over ice cream layer.


Gently spread the whipped cream on top and sides of cake.


With decoration tube or a spoon make a border of whipped cream around edges of top layer of cake.


Fill center with cherry pie fillings.


Cover and freeze 1 hour before serving.