Fruit Ice Creams » Gooseberry Ice Creams Varieties

Gooseberry Ice Creams
Gooseberry ice cream is unbelievably good. Perhaps one of the best and the easiest treats of early summer would be to serve .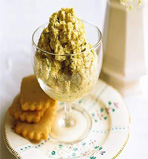 Gooseberry Ice Cream
Place 1lb of gooseberries, ½ cup of water and 1 cup of sugar (or to taste) in a saucepan and simmer for approximately ten minutes. In a separate saucepan, make the custard by heating 1 ½ cups of milk and ¼ cup of sugar. Bring to boiling point and remove from the heat.
ice cream recipes
Read Full Recipe ››