Ice Cream Carvings » Ice Cream House
Ice Cream House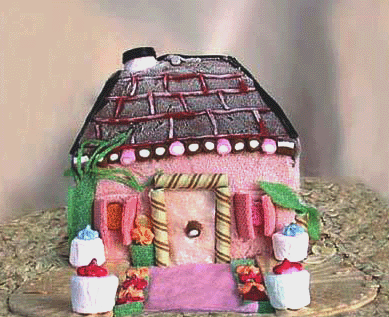 Ingredients:
Four liter containers of ice cream, choose some color or flavor for the walls of the house.
Two liter container of chocolate ice cream for the top (roof) of the house.
Five marshmallows (choice is yours here we used pink and white).
For the roof edge we use dolly combination sweets (round shaped - pink & white, brown & white).
To make windows we require two round licorice sweets (here use orange sweet).
For the roof flooring we use red strawberry flavor licorice tiles.
To round the pipe for the roof edges we use two 'cartwheels' of black licorice to untie them.
Four pink color wafer biscuits are required to create the window shutters.
To create the doorway we make use of 3 wafer rolls (we used 'Caf Curls' by Askeys).
For decoration purpose these Icing flowers, Toasted almonds and Green Apple stripe are used.
To create doors and gardens with different colors we make use edible paper sheets of different color.
Note: You are free to use your own imaginations to decorate the Ice cream house Sculpture.

Tools
Previous to the preparation we require one plate and one baking tray ice-cold in the freezer.
Fish slice
For perfect shaping and cutting process we make use of Sharp knife
A jug of hot boiling water to make the knife sharp for cuttings.
A slip of sweltering foil cut to the make dimensions for the metal plate (where the sculpture will be presented on)
Remember: when preparing an ice cream sculpture make sure that you  keep putting it back into the freezer about every 5 minutes to avoid it from melting and to keep hold of its solid shape.