Monday, March 29, 2010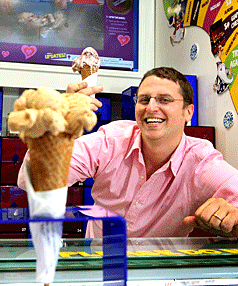 While
business
development has chilled for some, a tiny shop specializing in Italian gelato has bucked the inclination and found its sweet spot.
With help from a
massive
social network community, Giapo a boutique icecream shop in Auckland has boomed during the downturn and proved critics wrong by blooming in its first year of business.
With his thick Italian accent, owner
Gianpaolo Grazioli
puts the rapid victory down to the special bond the store has formed with its loyal customers.
The most important thing is that it's a community shop it's the
icecream
store of the block. Nothing more or nothing less, he said.
Located in the heart of
Auckland
on Queen St, next door to the historic Civic Theatre, Giapo has become what Grazioli refers to as a church. But it's a church very much with a social media twist.
Labels: business development, neighbourhood, Networking