Fruit Ice Creams » Kiwi Fruit Ice Creams Varieties

Kiwi Fruit Ice Creams Varieties
The texture of the kiwi fruit is soft and sometimes its flavour is described as as a mix of strawberry, banana and pineapple. Exotic kiwifruit is a favorite flavor of all ice cream lovers. Make your own at home with this easy kiwi fruit icecream recipe.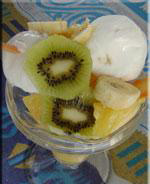 Kiwi Fruit Ice Cream
Whisk the egg whites with 30 ml/2 tbsp of the sugar. Whisk the egg yolks with the remaining sugar and the boiling water. Fold the two mixtures together, then fold in the cream. Thinly slice one kiwi fruit and reserve for decoration.
Read Full Recipe ››