Ice Cream Park » Ice Cream Flavors »Lappert's Ice Cream
Lappert's Ice Cream
We're great fans of Lappert's Ice Cream. They have excellent flavors, use good ingredients, and offer a nice variety of unconventional flavors.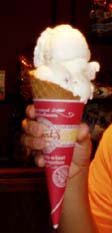 In recent times, while going to QFC to purchase some variety of ice cream, we were amazed to see the shelves cleared of all Lappert's stock. We were a bit miffed at the possibility that QFC had decided to stop carrying our beloved frozen treat.
At present, over a week after the clear-out, Lappert's is back. OK, we thought, it's not QFC's mistake. On one of the freezer doors, a sign was posted explaining the short-term disappearance of the ice cream. It appears a recall was in effect of Lappert's Ice Cream because of a Listeria scare. Sure enough, an article confirms the recall for all Lappert's Ice Cream created through August 4th.
Listeria isn't a fine thing. Gastrointestinal mischief is actually just the start. Pregnant women and those with weakened immune systems are particularly susceptible.