Fruit Ice Creams » Papaya Ice Cream Varieties
Papaya Ice Cream Varieties
Papaya is so good for skin and overall health and it isn't the most popular of tropical fruits. Here we provide a simple papaya icecream recipe which is easy to prepare and fun to eat.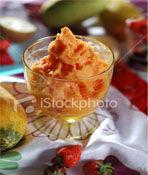 Papaya Ice Cream Varieties
Whisk together sugar, eggs, and cream in a heavy saucepan.Cook over low heat, while stirring, until thickened enough to coat the spoon. Do not boil. Remove from heat and let cool to lukewarm, stirring occasionally to prevent a skin.Place the papaya into the bowl of a food processor fitted with the metal blade or a heavy-duty blender.
Read Full Recipe ››