Ice Cream Park » Ice Cream Flavors » Rhubarb Ice Cream
Rhubarb Ice Cream
Rhubarb ice cream recipe is usually made with chopped rhubarb, sugar, heavy cream, vanilla ice , and also milk. A rhubarb ice cream recipe and other recipes for ice cream
If you love the tang of rhubarb and the custard richness of ice cream, you'll swoon over this. Inspired by the lush green and red rhubarbs that brighten up the market come May and June, it is cool, refreshing, and singular. The compote that accompanies it is purposely tangy as well. Add more sugar if you like, to balance the ice cream.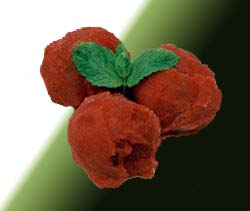 Ingredients
3 cups (750 ml) whole milk
1/2 cup (125 ml) Crème Fraiche, or heavy (or whipping) cream
4 large egg yolks
1/2 cup (100 g) sugar
1 pound (500 g) rhu6arb stalk, trimmed
Strawberry-Rhubarb Compote
Ingredients
14 ounces (420 g) rhubarb stalk, trimmed, peeled, and diced
1 tablespoon water
1/4 cup (50 g) Vanilla Sugar*
6 ounces (180 g) ripe strawberries, hulled
Copper fennel fronds, for garnish (optional)
Steps
To make Vanilla ice cream Sugar: Place 2 fresh vanilla beans into 8 cups sugar and store in an airtight container for at least 1 week.
Make the ice cream: Using the milk, crème fraiche, egg yolks, and sugar, prepare custard according to the directions in making a Custard.
After cooling the custard, refrigerate it, covered, until it is well chilled, 2 to 3 hours.
Cut the rhubarb in large chunks, place them in a food processor, and process until they make a chunky mixture -- not quite a puree, but as close as you can get to that. Moisten a cotton tea towel, and place it in a bowl with the edges hanging over the sides. Transfer the rhubarb to the bowl, and bring the ends of the towel up and around it. Squeeze the rhubarb to extract 1 cup (250 ml) of juice. Discard the rhubarb.
Remove the custard from the refrigerator and whisk in the rhubarb juice. Freeze the mixture in an ice-cream maker according to the manufacturer's instructions.
While the ice cream is freezing, prepare the compote: Place the diced rhubarb, the water, and the vanilla sugar in a very medium size heavy saucepan over medium-high heat. Cover and bring to a boil. Reduce the heat to medium so the rhubarb is cooking gently but at consistently, and cook until it is completely tender, stirring once or twice, 10 to 15 minutes. Remove from the heat.
Cut the strawberries ice cream lengthwise into thin (1/8 inch; 1/4 cm) slices, and add them to the rhubarb. Shake the pan to distribute them, and let the sauce cool to lukewarm.
To serve, divide the ice cream among six bowls. Spoon the compote around the ice cream, and garnish with the fennel fronds if desired.