Fruit Ice Creams »Strawberry Ice Cream Varieties
Strawberry Ice Cream Varieties
Strawberry is a red (false) fruits have always been a delicacy and it belongs to rose family. Strawberry ice creams are easy to prepare. Here we provide a simple Strawberry ice cream, make a try of it.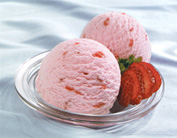 Rich Strawberry Ice Cream

Place strawberries in a blender or food processor and puree. Add remaining ingredients and process until smooth. Cover and refrigerate until ready to freeze. Blend for a few seconds before pouring into the ice cream maker. Follow the manufacturer's instructions for freezing.

Read Full Recipe ››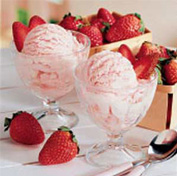 Strawberry Ice Cream with Balsamic Vinegar

Heat the milk in a small saucepan and bring to a boil. Remove from the stove and allow to cool down for about some minutes. Whisk together egg yolks and 70 g of the sugar in a bowl until most of the sugar crystals have dissolved and the color becomes light and pale. Pour the warm milk over the egg and sugar concoction while constantly stirring (slowly, otherwise you will end up with foam).

Read Full Recipe ››
Strawberry Ice Cream Sandwiches

Combine strawberries, 1/3 cup sugar, and corn syrup in medium bowl. Using potato masher, mash until puree forms; let stand 30 minutes. Meanwhile, bring cream, milk, and remaining 1/4 cup sugar to simmer in heavy medium saucepan, stirring until sugar dissolves. Remove from heat. Using electric mixer, beat yolks in medium bowl until thick and pale yellow, about 3 minutes. Gradually beat in hot cream mixture. Return mixture to saucepan.

Read Full Recipe ››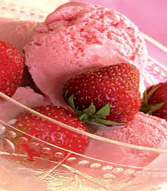 Strawberry Buttermilk Ice Cream

Rinse strawberries under cool water and slice. Create a mixture of sliced and diced strawberry pieces. If you find that the strawberries aren't very sweet, you can toss the sliced strawberries in 1 Tablespoon of granulated sugar and set aside until ready for the ice cream.

Read Full Recipe ››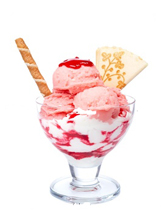 No-Cook Strawberry Ice Cream

Whisk first 4 ingredients in a 2-quart pitcher or large bowl until blended. Cover and chill 30 minutes. Process strawberries, lemon juice, and salt in a blender or food processor until smooth. Stir into milk mixture.

Read Full Recipe ››