Sunday, April 04, 2010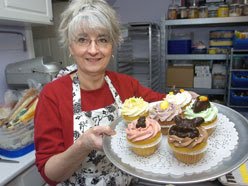 About this time,
London's forte
candy shops are counting all those
Easter eggs
that have hatched into golden chicks.
There are at least eight such shops in the city. All are small and locally owned, specializing in chocolate, candy, baked goods, gift boxes and baskets, and other Easter-flavored novelties. Often these goodies are made right on the premises.
What they have just passed through, on the last-week run-up to Easter, is their busiest time of the year, the chocolympics, the jelly-bean bonanza. Now it's time to tally the rewards.
Owner and
gastronomical modernizer
Dave Ghobri offered a bunch of Easter-themed goodies such as giant chocolate eggs into which customers could put toys, tickets or whatever. The egg halves were then sealed together again to become personalized surprise gifts.
It takes seven steps to make an egg, Ghobri says, which is why they sold for $11.95.Ghobri also sells chocolate goodies of all kinds, plus chocolate by the pound All of it he makes in his plant in Sarnia where he also has a store. He also sells treats at the weekly Saturday Sarnia Farmers Market and at a summer outlet in Sarnia.
Labels: Easter eggs, Gastromical modernizer, Londons sugar