Wednesday, March 31, 2010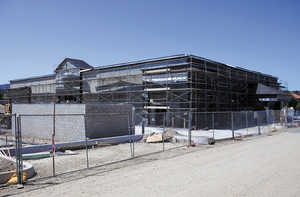 The new
Rite Aid
shaping up on El Camino Real and
Mercedes Avenue
in Atascadero is set to open in July. Construction began in November.
The new store will have an
ice cream
stall and a drive-through pharmacy in about 17,000 square feet, said Mike Hieshima of the Carpinteria-based developer Epsteen & Associates.
The entire staff is poignant over, local store manager
Jim Barksdale
said, noting that approximately 20 to 25 staff are excited about the change.
The new store will mark an updated look with stone veneer siding, red-tile roof and new landscaping, Hieshima said. There will also be
62
new parking places.
The existing Rite Aid, situated behind the new building in the
Plaza Del Camino
shopping center, is more than 20 years old, he said. It will feature 21,000 square feet of vacant space for a new tenant when Rite Aid moves out.
Labels: Atascadero, New icecream Stall, Rite Aid