Friday, April 09, 2010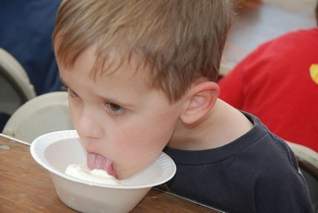 The 16th annual Royal Scoop Egg stalk was more than a one day-event. It was the conclusion of a huge community effort.
This year more than 30 volunteers worked to put on one of Southwest Florida's biggest Easter egg hunts. Volunteers from Bay Forest and Marbella stuffed most of the 18,340 eggs.
Teenagers from saintly Academy of Dance along with local children, adults and senior citizens spent hours laying the eggs on a huge lawn donated for the event by First Baptist Church of Bonita.
Volunteers helped direct the games, organizing children as they played an egg on spoon race, egg in ice cream cone race and raw egg toss. There were volunteers manning the grill cooking up hamburgers and hot dogs. Others did face painting or helped with the bounce house or giant slide.
People kept coming up to me and calling me and telling me they wanted to help, said Sarah Zimmermann, who owns Royal Scoop with her husband David. It's great to see so many people helping.
Labels: Bonita Egg Hunt, Florida Easter Egg hunt, kids thrilled