Tuesday, March 30, 2010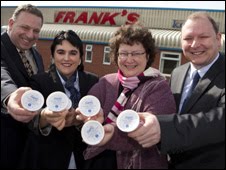 Carmarthenshire ice cream
a family-run firm has won a two-year contract to supply NHS hospitals in Wales.
Frank's Ice Cream, based at
Capel Hendre
in Amman ford, will make more than a million small tubs of strawberry and vanilla
ice cream
a year.
Giulio Dallavalle
, who runs the firm with brother Renaldo, said they have a special ice cream to win the contract. The award-winning firm's 20 employees are now working round-the clock, seven days a week.
Mr Dallevalle said the beauty of the convention to supply hospitals in Wales was that it "de-seasonalises" the ice cream market, and that they were working non-stop, partly to meet the demand. They said it is a momentous contract for us and we are happy with the outcome.
Labels: Capel Hendre, Carmarthenshire icecream, supply NHS hospitals