Thursday, April 22, 2010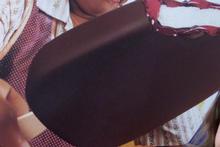 Papamoa woman Sarah
McNeely
had her own Charlie Bucket moment. The mother-of-two initiate her own
golden ticket
in a Memphis Meltdown
ice-cream
wrapper last week.
But instead of winning a trip to Willy Wonka's chocolate factory, Ms McNeely will make a poignant pilgrimage to Crete. Ms McNeely and partner Paul Beauchamp had been saving their money so that they could attend the 70th Commemoration of the Battle of Crete in May next year.
But the
$10,000
win means the couple can now make the journey without financial stress. The trip is more than just a holiday it's a pilgrimage to honor Mr. Beauchamp's late grandfather, Ken little, who fought in World War II.
It will be an emotional moment for the couple. Mr.
Beauchamp
was very close to his grandfather, and for Ms McNeely, the trip will be an chance to honor the man she never got to meet. Just to be capable to go and share that will be really cool. The war was a bit part of his grandfather's life.
Labels: Golden ticket, ice-cream wrapper, McNeely